Description
This powerful 314 lumen lantern has a built-in powerbank so you can charge your devices from anywhere. This rechargeable, dual-color lantern is a perfect companion for outdoor adventures, backyard illumination, or home emergency use.
Product Information
The Radiant® 314 Rechargeable Lantern is a full-featured lighting solution that offers ultimate reliability and versatility. A built-in powerbank with a USB output port allows you to charge small devices wherever you go. Featuring 314 lumens of bright white light softened by a built-in light diffuser, this dual-color (white and amber) lantern has four modes, plus lockout. The push-button switch makes it simple to dial in your perfect illumination by easily cycling between bright white light (high, medium, low) and a warm night-vision saving amber mode. In addition to four LED modes, this lantern offers lockout to prevent accidental activation and battery drain This durable lantern is impact and water resistant (IPX4) and features a built-in carabiner clip, making it easy to clip, carry, and hang. The included light-diffusing storage bag is dual-purpose, softening the light when the lantern is in use and offering additional protection when not in use. Powered by a rechargeable lithium ion battery that charges using a micro USB cable (included), this lantern can run up to 96 hours on a single charge.
ANSI/NEMA FL1 Standards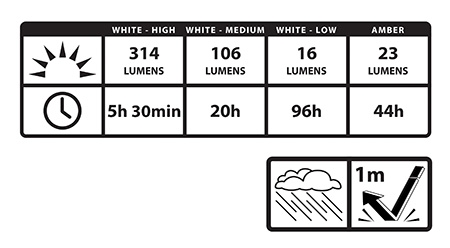 PRODUCT DETAILS
314 lumens
Four modes (plus lockout):
White LED: high, medium, low
Amber LED: high
Easy push-button design allows easy cycling between modes
Amber mode is perfect for preserving night vision
Impact resistant (drop proof to 1 meter)
Water resistant (IPX4)
Built-in optical diffuser softens light
Dual-purpose light diffusing storage bag softens light and protects the lens
Lockout feature is activated/deactivated by pressing and holding button for 5 seconds
Powered by a rechargeable lithium ion battery
Recharges in approximately 3 hours using micro USB cable (included)
Dimensions: 2.8" x 6.9" x 2.8" | 72mm x 174mm x 71mm
Weight: 8.6oz | 243g
Payment & Security
Your payment information is processed securely. We do not store credit card details nor have access to your credit card information.